Written by Bastien Donjon, Posted in web services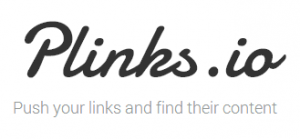 Today, i opened a landing page for plinks.io, my new web service.
This web service must meet one of my problems and probably full of other people.  How to find a page view there several days ?
There is no way to find a link to a page appropriately…
Plinks.io should be simple for you to have the minimum action to do, to push and to find your links.
This service should interest all those who consulted a lot of web page.
Plinks is not like xmarks, delicious or more ! It's more fun.
See you soon for more details !